Shannon K. Portillo
---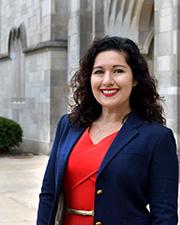 School of Public Affairs & Administration
Contact Info
Wescoe Hall, Room 4060
Lawrence

---
Biography
—
Shannon Portillo, Ph.D. is Assistant Vice Chancellor of Academic Affairs at the KU Edwards Campus and an Associate Professor in the School of Public Affairs and Administration at the University of Kansas. Dr. Portillo takes an interdisciplinary approach to her work pulling on organizational theories rooted in Public Administration and Law and Society to explore how rules and policies are carried out within public organizations. To date she has done work in a broad array of organizations including the military, courts, policing, higher education, and city management. Using a variety of methods, she collects empirical data to assess how social, cultural, and legal factors influence the day-to-day operations in these organizations. Teaching and research interests include social equity, organizational theory, and law and public management. Her work has appeared in the Journal of Public Administration Research & Theory, Law & Policy, Public Administration Review, Administration & Society, Law & Social Inquiry, and The Huffington Post, among other academic and popular outlets.
Research
—
My research focuses on how managers and street level workers adhere to policy while navigating formal (rules/laws) and informal (norms) organizational structures.
Research interests:
Law & Society
Social Equity
Social Status
Race/Ethnicity and Gender
Qualitative Methods
Rules & Public Law
Organizational Theory
Teaching
—
In all of my courses I have three goals: 1) to facilitate open and critical discussion around the topic area, 2) to connect the themes of the course directly to current issues and debates and 3) to develop students' critical thinking through meaningful writing activities. I want students to develop into critical consumers of knowledge rather than memorize specific cases, statistics or facts. My classes are designed to give students the capacity to look at current and historical issues in public affairs through many critical lenses so they may have a broad base from which to develop their own views.
Teaching interests:
Law & Society
Social Equity
Social Justice
Law & Public Management