SPAA Alumni Recognized as Emerging Leaders
---
SPAA congratulates alumni Chanté Martin and Whitney Morgan on receiving the Emerging Leaders Award!
The University's Alumni Association Black Alumni Network recently announced the seven recipients of the Emerging Leaders Award. The award is bestowed based on professional achievements and community service.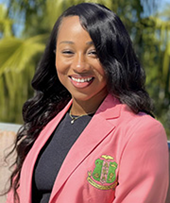 SPAA alumni Chanté Martin (MPA 2018) oversees strategic partnerships at Polco, a company dedicated to amplifying the influence of community members in government decision-making. Raised in both Topeka and rural Arizona, she currently resides in Phoenix. She attained her bachelor's degree in communications from Washburn University and went on to complete her master's in public administration at KU. Additionally, she is currently the President of the Kansas University City Managers and Trainees Alumni Organization (KUCIMAT). Before this, she held positions in local governments in both Minnesota and Texas.
Chanté said: "I am honored to receive the Emerging Leaders Award from KU Alumni Association's Black Alumni Network. As a 2018 MPA graduate I am so proud to be a recipient. The SPAA programming at KU truly changed my life. I started the MPA Fellow track program, having not even a clue what a City Manager was ... I left the program with lifelong friends, a strong sense of purpose, and began a robust career.. I even met my husband while completing my fellowship in Minnesota! As a Topeka native, I'm very proud and honored to be a KU alumni."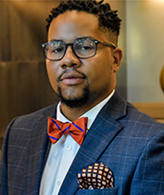 SPAA alumni Whitney Morgan (MUP 2012) is currently employed at the Kansas City Area Transportation Authority, where he is the civil rights program manager and the liaison to the Disadvantaged Business Enterprise program. Prior to this role, he worked as a transportation planner at the Mid-America Regional Council. He also served as the recent president of the Kansas City chapter of the Conference of Minority Transportation Officials. In 2020, he was honored with the Rev. Jerry Moore President's Leadership Award.
"I'm ecstatic to be recognized by the KU Black Alumni as an Emerging Leader. I remember back when I was a student at KU I gave one of the student addresses to the group. Now years later I'm being honored as an award recipient. Life can be ironic at times.
I really enjoyed my time as a graduate student in the Urban Planning Program even more than my undergraduate education in architecture. I really believe the skills I learned and the relationships I developed during that time have helped guide me to where I am now. It also inspired me to spread the word about urban planning as a major, especially to women and minorities. If you're not at the table then you're on the menu."
SPAA congratulates both Chanté and Whitney on receiving the Emerging Leaders Award.