SPAA Welcomes Assistant Professor Hala Altamimi to Faculty
---
The School of Public Affairs and Administration is pleased to welcome Hala Altamimi to the faculty as an assistant professor.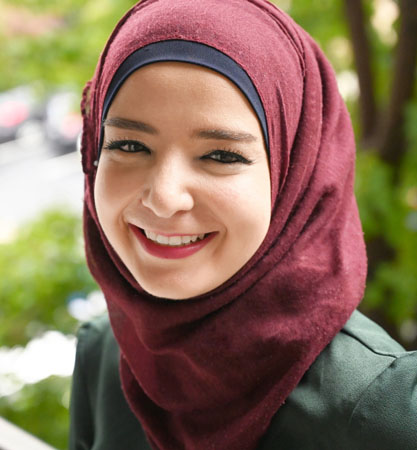 Altamimi's research centers on public and nonprofit management and finance with specific interests in organizational behavior, decision-making, and result-oriented approaches to performance, including performance measurement, auditing, and evaluation. 
She is currently a doctoral candidate at the Andrew Young School of Policy Studies (AYSPS) at Georgia State University with an expected completion date this summer. 
Altamimi brings to SPAA an impressive list of awards and academic recognition.  She has several fellowships and has successfully been awarded a grant from the Institute of Humane Studies to support her research and academic development for her dissertation.  She has received honors from several organizations notably: the Best Doctoral Student Award at AYSPS, Emerging Scholar Award and the Diversity Scholar and Leader Award at the Association for Research on Nonprofit Organizations and Voluntary Action (ARNOVA); the Equity and Inclusion Award at the Association for Public Policy Analysis and Management (APPAM); and the Inclusion Award at Public Management Research Association (PMRA).
Her scholarship is similarly acclaimed. An article she first authored studies the relationship between the degree of centralized decision-making and the implementation of organizational change in municipal governments that experienced budget cuts was published online in the peer-reviewed Journal of Public Administration Research and Theory (JPART).  JPART is the official journal of the Public Management Research Association, of which the School of Public Affairs and Administration at KU has held the secretariat since its inception. 
Another article of Altamimi's, "The Nonprofit Starvation Cycle:  Does Overhead Spending Really Impact Program Outcomes?" was published in Nonprofit Voluntary Sector Quarterly and tests the relationships between overhead expenses in nonprofits and program outcomes.  An earlier version of the article was awarded the Best Student Conference Paper by the Nonprofit Division of the Academy of Management in 2019 and recognized by the division chair as one of the best papers submitted to the conference.  It was later published in the Academy of Management Proceedings.
Altamimi is excited to join SPAA and is looking forward to teaching and continuing her research in the fields of performance management and nonprofit management. "I am looking forward to working alongside the reputable faculty in SPAA.  I know I can contribute to the School's research and top reputation, Altamimi said.  I am excited to start my academic career at KU with its strong academic reputation, commitment to diversity and leadership, and opportunities for career growth and development." 
Marilu Goodyear, SPAA's Interim Director is anxious to welcome Altamimi to campus.  "We have no doubt Hala will bring strength to our program.  Her areas of expertise in performance management and budgeting in local government and nonprofit organization is a point of focus for nearly all practitioners right now.  Hala's talents as a researcher, practitioner, and teacher will be of huge benefit to our students. We are grateful she is coming to our School and to the KU community to start her career." 
Altamimi will join the faculty in the fall of 2022.  She's expected to teach at the undergraduate and master's levels.