Heather Getha-Taylor
---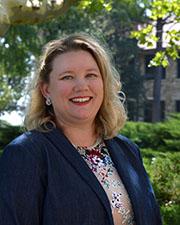 Contact Info
Wescoe Hall, Room 4060
Lawrence

---
Biography
—
Heather Getha-Taylor is an Associate Professor in the KU School of Public Affairs and Administration. Her PhD is from the Maxwell School of Citizenship and Public Affairs, Syracuse University.
Research
—
My research focuses on the public sector workforce, with special emphasis on the changing dimensions of public work, including enhanced expectations for boundary-spanning collaboration. I explore, for instance, the ways in which collaborators work to develop trust, illustrate collaborative competencies, and adapt leadership styles and practices. Connected to this, I also work on leadership training and development projects, including those that consider the design, evaluation, and impact of these programs. Exploring the connection between theory and practice is important to me and I seek to understand ways in which established frameworks and assumptions influence, or are influenced by, contemporary realities. My current work, for instance, reflects a tension between enduring values and emerging priorities, which is a unifying theme across projects.
Research interests:
Public and nonprofit management
collaboration
human resource management
public service leadership
Teaching
—
I teach classes at both the undergraduate and graduate level on multiple campuses (Lawrence, Edwards, and Topeka). I believe in engaged scholarship and the premise that teaching and research should inform and reinforce one another. I strive to help students become evidence-based managers who can effectively use theory and empirical research to address practical challenges. Further, I work to design course components that connect with contemporary themes and audiences outside the classroom. I seek to engage students with different learning styles in meaningful ways by utilizing a variety of teaching approaches. Finally, I value reflective practice and encourage students to thoughtfully apply course lessons to their own professional development during their academic journey and beyond.
Teaching interests:
Public and nonprofit management
collaboration
human resource management
public service leadership