Rosemary O'Leary
---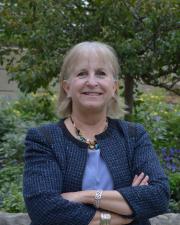 Edwin O. Stene Distinguished Professor Emeritus
Contact Info
Wescoe Hall, Room 4060
Lawrence

---
Biography
—
Throughout her career, Distinguished Professor O'Leary has linked her work in academia with efforts to improve government on the ground. A true boundary spanner, her analytical studies and writings have addressed major public issues such as collaborative governance, women and leadership, and managing for the environment. Many of the ideas for her research have roots in her years as a public servant and have earned her 13 national research awards and 2 international research awards, including 4 best book awards. She is an elected member of the congressionally chartered National Academy of Public Administration (NAPA) and the only person to win 4 awards from the Network of Schools of Public Policy, Affairs, and Administration (NASPAA- for best dissertation, outstanding teaching, outstanding research, and outstanding mentoring of PhD students). She is the author of a dozen books, including Retrofitting Collaboration Into the New Public Management (with E. Eppel, Cambridge University Press 2021), Leading in Place: Leadership Through Different Eyes (with R. Hilton, Routledge 2018), and Environmental Governance Reconsidered (with R. Durant, D. Fiorino, and P. Weiland). In addition, she has published more than 135 scholarly articles and book chapters. In 2021, the Academy of Management chose the 3rd edition of her book, The Ethics of Dissent: Managing Guerrilla Government (CQ Press 2021) used in ethics and management courses around the world - as the winner of the "Best Book in Public Management Award". Professor O'Leary has won 11 teaching awards. She has worked in Hong Kong, China, Malaysia, the Philippines, New Zealand, India, and the US. She co-directed the program on collaboration and conflict resolution at Syracuse University for 5 years, co-creating E-PARCC, Free online teaching materials on civic engagement, collaboration and conflict resolution used by hundreds of thousands around the world. Professor O'Leary was a member of NASA's Return to Flight Task Group assembled in response to the Columbia space shuttle accident and was awarded the NASA Distinguished Service Award for her efforts. She was President of the Public Management Research Association 2017-2019. In 2019, the International Research Society for Public Management (IRSPM) established the annual "Rosemary O'Leary Prize for Outstanding Scholarship on Women in Public Administration.
Research
—
Research interests:
Public Administration
Public Management
Collaborative Public Management
Collaborative Governance
Law and Public Policy
Administrative and Environmental Law
Environmental Policy
Environmental Management
Conflict Resolution
Dispute Resolution
Collaborative Problem Solving
Retrofitting collaboration into New Public Management governance schemes
Collaboration as a leadership and management strategy
Comparative conflict resolution at the local government level
Teaching
—
My teaching philosophy is grounded in the belief that my focus should be on students as great learners, rather than on myself as a great teacher. I accomplish this by concentrating on four streams in the classroom: knowledge, critical thinking, creative thinking, and an enthusiasm for public service.
Teaching interests:
public administration
public management
collaboration
organization theory
environmental policy
law